In May, just one week before embarking on my India adventure, I expressed in a blog post the following:
"What excites me is the chance to pursue my life passion for creating meaningful change in the lives of others through social entrepreneurship.
Mostly however, what excites me most is knowing that when I write in this blog seven days after all is said and done, I will have gone on an adventure that profoundly changed who I am."
Now August, just about two weeks after completing my India adventure, I am sitting here in the living room of my home in Honolulu, realizing these excitements fully manifested: meaningful change to others, profound change in myself.
Meaningful Change to Others
My team of "The Hubli Water and Health Project" came to India with the very broad mission of: improving the quality of drinking water and sanitation of local families through education and technology". With India representing about one-third of the 1.6 million people dying from unsafe water and poor sanitation per year (90% of which are children under 5), we were compelled to seek meaningful change.
We accomplished this through three different initiatives: 1) Water and Health Education Program, 2) Household-Level Water Filter Distribution, 3) Community-Level Water Purification Plant.
Initiative #1: Water and Health Education Program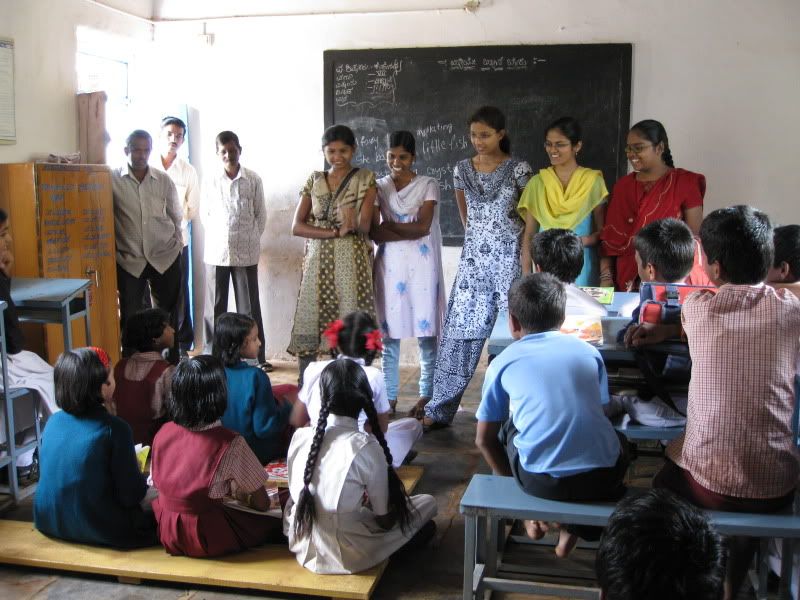 The first initiative represented the foundation that needed to be laid for anysuccess in improving the water situation. In most development projects, it is only through education (in this case, education about the necessity of clean water and proper sanitation) that communities could truly start eliminating bad habits, embracing personal responsibility, and taking initiative towards improving their circumstances.
In a nutshell, the Education Program aimed to educate primary (elementary) school children from low-income areas about clean water and sanitation through local college volunteer teachers. By influencing the open and developing minds of younger children, we hoped the Program could generate ripples of change emerging from the up-coming generation. Furthermore, by seeking college-aged volunteers, we aimed to empower the hearts of future leaders through opportunities to serve others.
With the curriculum already developed last summer, our team mainly focused on expanding the Program for larger impact. To do this, we successfully partnered with two colleges--Women's College in Hubli and KIMS of Karnatak Univeristy in Dharwad--and connected their collective 30+ volunteers with six different primary schools. All in all, over the next 12 weeks, about 270 elementary students will learn 12 important lessons like properly washing their hands, how the water cycle works, how germs are spread, and why it is important to respect the environment.
Initiative #2: Household-Level Water Filter Distribution
The second initiative aimed at diffusing a proven yet simple water technology--an affordable household water filter--to as many families as possible. Thus, like most development projects, the biggest challenge was a marketing versus product one. The obstacle to overcome was diffusing a readily available and working technology in a way that ensured long-term and wide-spread adoption.
The highly effective water filter we sought to distribute removes sediment and kills water-borne bacteria through a gravity-fed ceramic filter infused with silver-ions. A single filter costs only USD $5-7 and can produce enough clean drinking and cooking water for a family of five for an entire year (~10,000L). After about one year, the ceramic filter can be replaced at a cost of just $1.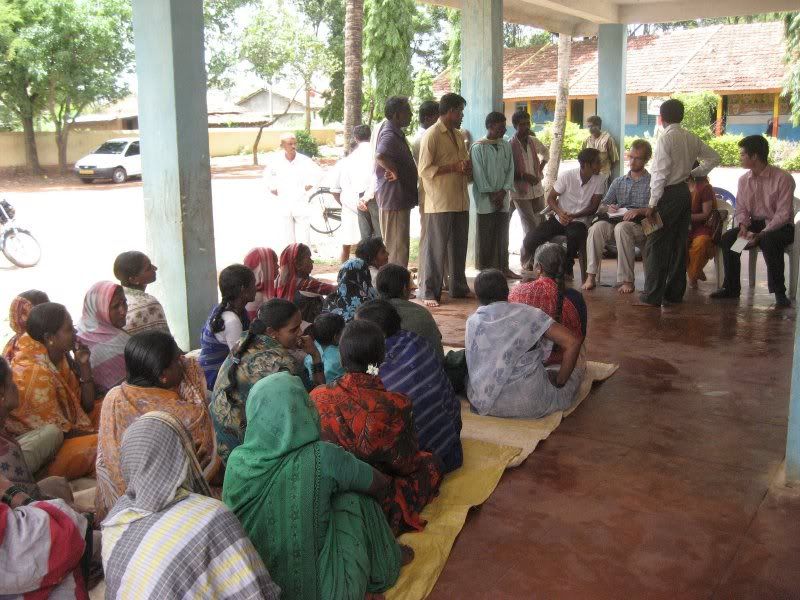 Initially, we thought we should establish a water filter kiosk that would be operated by a local entrepreneur. However we realized a much greater opportunity after an exploratory meeting with Chinyard, a microcredit NGO with an established network of over 3,000 self-help women groups throughout Karnataka. Chinyard was the perfect distribution solution: the organization had direct and immediate access to the right target consumers (poor families who suffer most from water contamination and women who are responsible for the house's water supply), established credibility within communities, channels to distribute (bi-weekly SHG meetings), and capacity to provide payment plans for those who needed financial assistance. Chinyard was all-aboard in taking this new initiative of water filter distribution that would both improve health of their members and bring in profits.
To launch the initiative, we needed to test the demand, so we requested Chinyard to do product demos then generate a list of people interested in purchasing the filter. One week later, Chinyard presented us a stack of papers inscribed by 270+ names of eager consumers!
With demand secured, we were ready to assist Chinyard and provided them an interest-free loan to purchase 150 of the 270 filters through our project budget. The loan terms were lenient and repayment will be extremely easy for Chinyard. The ultimate aim will be for Chinyard to successfully handle this first order then use profits to build distribution to the rest of the market of tens of thousands of needy families. This certainly has the potential to be the innovative, scalable, and sustainable solution to distributing technology to the poorest of the poor: microcredit self-help group networks!
Initiative #3: Community-Level Water Purification Plant
This third initiative was the focus of most of my other blog posts. So rather than writing more, please have a read of those.
In a nutshell, we successfully installed a 1000 liter/hour reverse-osmosis water plant aimed to bring clean drinking water to 500 needy families in Gadag district. Furthermore, the plant projects to break-even within the next year and has the potential to generate enough profit to finance a new plant every five months. The pure water should begin flowing by August 25th.
Profound Change in Myself
Yet, with all the change I helped bring to others, others helped bring even greater change to me. Namely, it was through selfless service to others that my self-understanding deepened. As the great Mahatma Ghandi, a dedicated Karma Yogi, said: "The best way to find yourself is to lose yourself in the service of others".
I laid out some of my major life philosophies, or convictions, over a year ago when I established this blog. As convictions, based in reason but ultimately dependent on faith, both my heart and mind have only been fortified through this India adventure.
I am Lucky and with a Responsibility
Watching videos and reading articles about the needless suffering and unbelievably difficult lives of others worldwide was enough to develop this conviction. However, this summer I witnessed this suffering and difficulty first-hand in India.
From the disheveled beggar kids who tugged at my hands for rupees to the personal interactions with locals like: an overworked and underpaid bus driver getting schemed by fraudulent "business opportunities", a high school dropout teen stuck in low-caste work of cleaning tables for 15 cents/hour at the canteen, and the heartbroken college girl forcefully separated from her true love then arranged to marry an unlikable man and denied her professional dreams.
In result, my belief that my life is abundantly blessed has only deepened, and the luminous fire that drives me to help others only burns brighter.
Furthermore, even as "my" accomplishments grow grander, my humility only grows truer. More and more, I see my truly minute existence within the expansive web of causes and effects. More and more, I recognize that there are simply too many influences that I am lucky to have--people, experiences, opportunities--to ever have room for ego.
We are Equal
As human beings, I believe we all share a fundamental equality based on our inherent human dignity. This human dignity comes from my deepening spiritual belief that every person possesses something beyond the
physical, something Infinite, something divine. As the Bhagavad Gita states, "They live in wisdom who see themselves in all and all in them". The wise recognize the divine which pervades all people and things. The wise can see the wonderful oneness of reality and can see beyond the illusion of separateness.
Be Myself - Listen to my Heart
Yet, such metaphysical comprehensions of our interconnectedness and the existence of the divine, only compel my mind through logic to believe in equality. Ultimately, believing comes down to being myself through listening to my compassionate heart.
Working tirelessly in a foreign land for complete strangers while also immersing myself in ancient Hindu and Buddhist wisdom this summer, I witnessed and learned about the power of compassion. Compassion supports our fundamental equality and applies universally to every single being. Where there is a violation to someone's basic human rights, our heart will alert us, and compassion will seek change. My compassion sought to unlock the shackles of poverty that deny the impoverished their right to freedom. My small compassionate contribution was to help as many people in Karnataka, India by eradicating a major contributing factor to their poverty: dirty water.
My Heartfelt Thanks
I hope you made it this far, and if you did congratulations, this is a long post!
For in conclusion, I wanted to send my sincerest thanks to everyone who has followed this blog and traveled beside me on this amazing India adventure over the past three months. Your encouraging comments definitely helped fuel the fire throughout. Simply knowing I had a readership pushed me to authentically share this experience, and to make sure I actually had a good experience to share! My heartfelt gratitude goes out to each and every one of you. Namaskara and Pure Aloha.
-Bronson